Usage of Variable Dispersion Compact Array Speakers: What Teachers Need to Know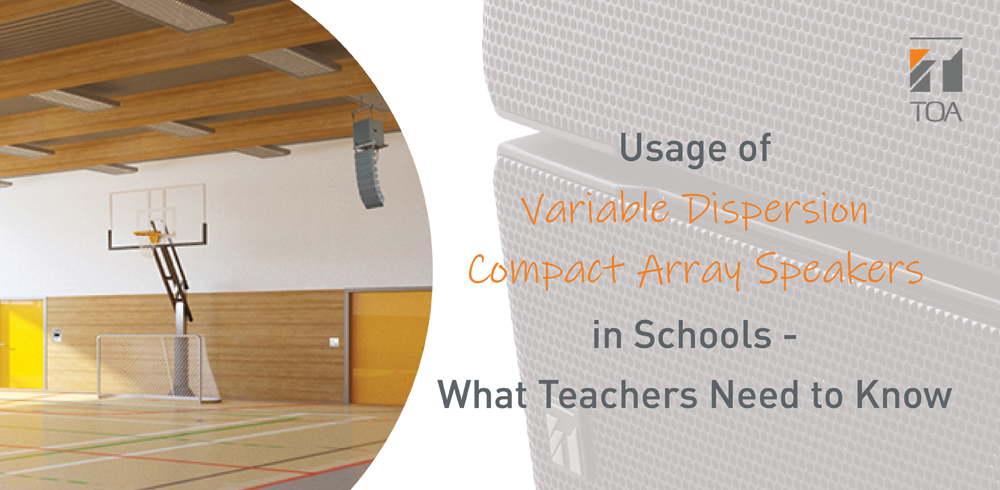 Usage of Variable Dispersion Compact Array Speakers: What Teachers Need to Know


Whether it's the distracting reverberations, nearby traffic buzz, or ongoing construction works, high sound levels in schools' multi-purpose halls cause students to have trouble hearing and understanding what is being said.

Ensuring that your voice can be heard loud and clear is important so your students can get the mos out of the events held in these multi-purpose halls. Variable dispersion compact array speakers marrt clarity and the wide dispersion of sound, overcoming difficult sound reinforcement problems that conventional speaker systems are unable to solve.
What are Compact Array Speakers?


Variable dispersion compact array speakers incorporate the best designs of subwoofers and horn loudspeakers to deliver high-quality audio in spaces with long reverberation times and problematic low frequencies.

Their stylish, unobtrusive and modern appearances make them popular in medium-sized venues like schools' multi-purpose halls, gymnasiums and houses of worship.
Choosing Variable Dispersion Compact Array Speakers for Your School


Wide sound coverage all around: To ensure that even the students sitting at the back of the hall can her the competitions, performances or concerts clearly, there needs to be an effective coverage of sound.

Variable dispersion compact array speakers have ideal sound dispersion characteristics, providing clear and even volume of sound for both students and teachers inside the school hall.

Simple to use:
During sports events, school concerts, and competitions, noise can go up to very high levels. With it's remarkably easy-to-control coverage characteristics, variable dispersion compact array speakers offer perfect solutions to busy teachers who wish to minimize set-up time and maximize the event's atmosphere.


Teachers can make use of the
HX-7 variable dispersion compact array speakers
with constant directivity control over a wide frequency range to deliver sound with clarity and high volume, upping the excitement levels amongst the audience.
Easy maintenace and flexible configuration:
Between juggling administrative tasks, teaching students and organizing competitions/concerts, teaching is probably considered one of the busiest professions.


Fortunately, variable dispersion compact array speakers' unique modular design makes them simple to service and maintain. TOA's
SR-T5 Line Array Speaker
is made of sturdy impact-resistant materials, making it an ideal choice for multi-purpose sports halls and gymnasiums. It is as tough as it sounds - even basketballs and handballs will do no damage to the speaker, so you can get your head in the game.
Schools may also hold temporary events that requires a simple, yet effective sound system set-up. Variable dispersion compact array speakers can also be arranged in different confirguraion, with a wide range of mounting possibilities to suit specific requirements. TOA's
FB-150B Subwoofer System
and
FB-150W Subwoofer System
are available for the flexibility of temporary installations.
Conclusion


Even though your school's hall may have high reverberations and/or acoustic reflections, variable dispersion compact array speakers have excellent speech clarity to overcome these problems. With their slim designs and flexibility to be installed in a multitude of ways, including temporary and permanent installations, they remain popular choices for teachers to install in school halls so that performances and competitions can be held with ease.

At TOA Electronics Pte Ltd, our mission is to supply you with high-quality equipment with first-class sound. Check out our range of variable dispersion compact array speakers in Singapore available here.